Okay, backstory. Long time ago, I learned about a cake called
torta tre monti
, a cake from the Most Serene Republic of San Marino. From the
Wikipedia article
on the cake: "It is similar to other layered desserts common to San Marino, this one being representative of The Three Towers of San Marino."
I misinterpreted this sentence. You see, I thought it meant the
torta tre monti
actually resembled a geographical formation, like a topo map. That is an exciting prospect, because San Marino is a jagged, mountainous land, and a cake that looks like this would be pretty badass:
Source:
http://brianakira.wordpress.com/2008/08/29/september-3rd-will-mark-the-1707th-anniversary-of-the-worlds-first-christian-state/
Tragically, that is not the case! The cake actually looks like this:

Source:
http://www.laserenissima.sm/torta_tre_monti_caffe.asp
That is not a cool looking cake! It's probably tasty, but it's not topographical at all! Something had to be done. Something...excessive.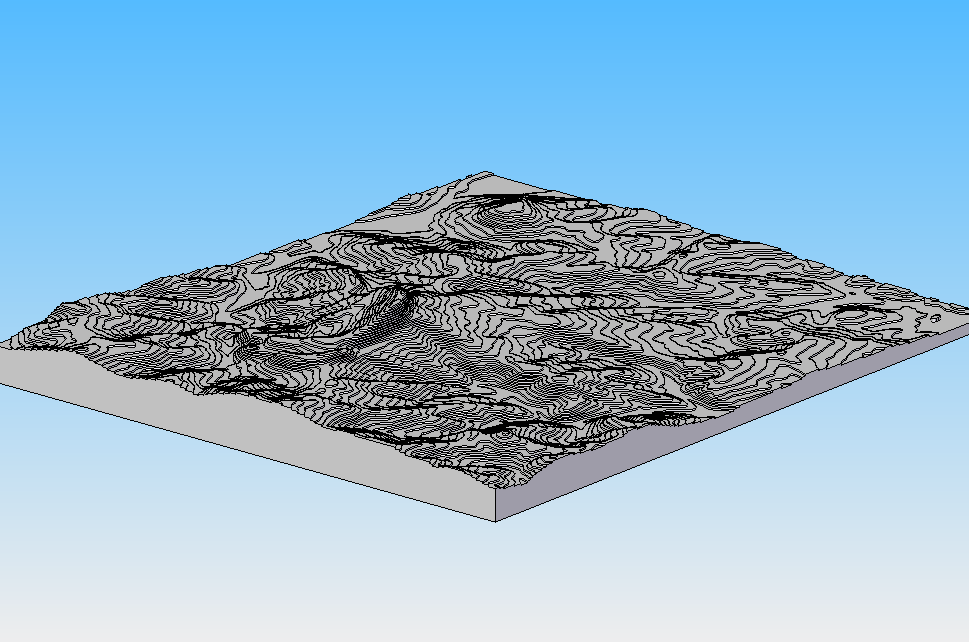 That is my
torta tre monti
, the result of four days of labor. It covers all of San Marino and a chunk of Italy that surrounds it. Each gradation is 20 meters higher than the one before it, with the highest one being 700 meters. I didn't get the lines from a geological survey or anything; I stitched together screenshots from Google Maps (terrain mode) and traced them by hand using my trackpoint mouse.
(That's a point of pride. I did all this with a trackpoint. You are not allowed to complain about my trackpoint use.)
Trouble is, I don't know what to do from here. If I want an actual topographical cake, how should I do it? I can make a negative image and mill that, to use as a cake pan; I could do the whole thing with a RepRap and a
Frostruder
; I could cut out wafers in the shape of each layer, and glue them together with chocolate, like in the original! I could also change what area I use for the actual cake! I could use the whole rectangle there, or just the boundaries of the nation of San Marino, or just Monte Titano. I could make so many cakes.
I'll supply the files to anyone who asks, by the way.